Bavarian Curling or Pork Roast and Dumplings Curling Competition
Natural Curling Lanes in Stanz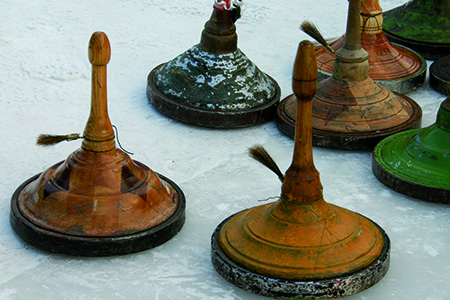 Bavarian curling or a Pork Roast and Dumplings Curling Competition on any of the many natural curling lanes is something that is just a natural part of the Hochsteiermark Region. Generations of winter athletes have got their curling stones out of storage and polished the target blocks at the beginning of each season.
The rules are really quite simple: In a Pork Roast and Dumplings Curling competition two teams of 10 to 15 players compete against each other. Each player has a ribbon on their curling stone, with different colors for each team. The object is to hit the target or to come as close as possible to it. The teams take turns. Each team chooses a team captain, who is usually a professional Bavarian curling athlete.
The team captain stands at the opposite end of the lane and indicates where the player should try to place their curling stone. The target block can be hit and even knocked out of the lane, meaning players have to use even more accuracy, if it hasn't been agreed on that the target blocks are to be placed back into the lane. Once each player has had their turn, the team captain gets to take a shot. The team whose curling stone is closest to the target block is the winner.
Usually the winner needs to have won three turns in order to win the meal for their team; winning two turns means the team wins drinks as well. Once a turn is won, the team captain makes a notch in the loser's flagpole. Never let your flagpole leave your hands! If you do, you have to buy a round of drinks for all your opponents!
In the meantime the innkeepers are busy preparing the farmers' platter complete with pork roast, smoked pork, dumplings, kraut and sausages. The winning team's captain is served the largest dumpling and the losing team's captain only gets a teeny-tiny one.
At the awards ceremony the losing team's captain is presented with a miniature curling stone, or even a big screw to motivate them to practice more so they might win the next time
Ice Lanes and Skating Rinks in Stanz:
Ice Lanes at Malburg pond
Ice Lanes at Unteralm
Ice Lanes at Possegg Müllner
Ice Lanes at Hammerkogeleisschützen
Ice Lanes at the Sports Grounds
Ice skating and Ice hockey:
Malburg pond with an area of 15,000 m²