Banquet Hall for 150 Guests
Weddings, Family Get-togethers and Bus Tours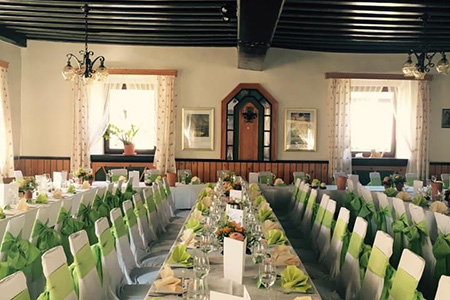 The banquet hall on the 1st floor offers plenty of room for 150 guests, making it the perfect venue for weddings, family get-togethers and bus tours.
The hall has its own stage; there is enough natural light and additional lighting is available to create the perfect setting for your celebration. This is a popular location for wedding receptions. We serve the happy couple and their guests' every need: from the reception itself to a romantic carriage ride to the perfect festive menu.
Innkeepers Gernot and Susi's wedding present to you? Your wedding night in the Romantic Room and a delicious breakfast the next morning.